POSITIONING CROSSCUT SYSTEMS
Our positioning Crosscut systems of the type F/SHK are the easiest solution for a precise final cut. By the positioning saw you cut stationary packs to the required length - at the millimetre. Proved in more than 5000 working systems worldwide. HOLTEC package Crosscut stations fulfil each requirement. And this is not mere chance as you are determining yourself the size, the operation mode and the cutting geometry (ES 121 or Vario Cut). Increase your productivity - with HOLTEC. Our engineers gladly accept any challenge.
Total Simplicity - Total Perfection:
Cutting accuracy ± 1 mm
Best cutting force distribution for perfect cross-sections
Safe, easy operation
Positioning and cutting function either manually, hydraulically and electrically
Electronic length display (on request)
System lengths up to 21 m
Waste evacuation systems optional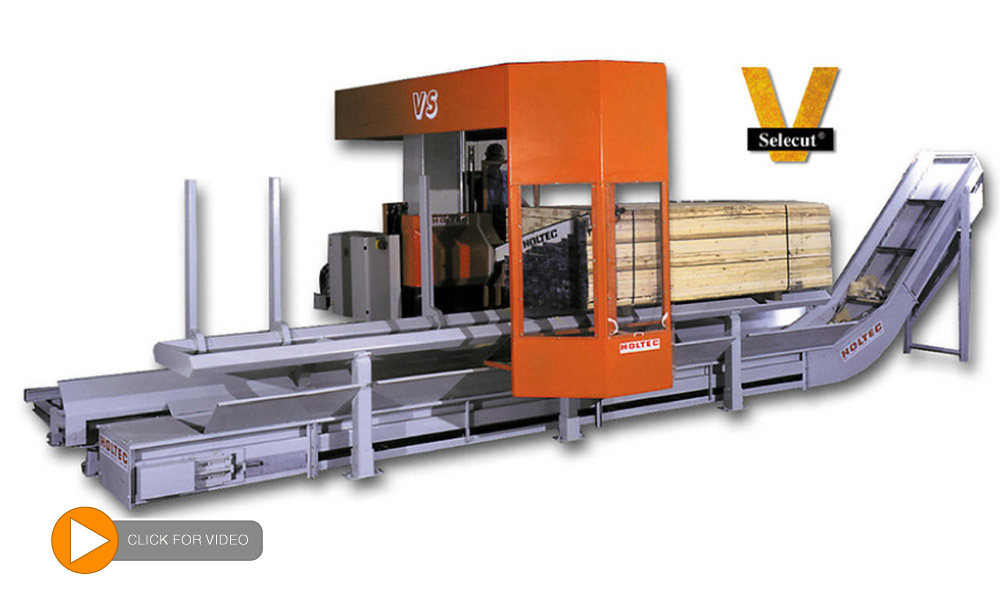 ---
STATIONARY PACKAGE CROSSCUT SYSTEMS
HOLTEC offer the SHK CNC-controlled Crosscut system for perfect fixed length or component length production: with a travelling package carriage and a stationary saw unit (ES 121 or Vario Cut). This system offers the ability for multiple cuts with total precision.
Multiple cuts with reliable precision:
Multiple cutting with cutting kerf opening
Electronic cutting kerf corrections, length measuring and cut counting
Automatic cutting sequence by CNC-control
Individually programmable package lengths
50 programming memories
Simple control with protection against operating errors
Cutting accuracy ± 1mm
Carriage lengths up to 10m
Combinable with all current marking and packing plants
Waste evacuation systems optional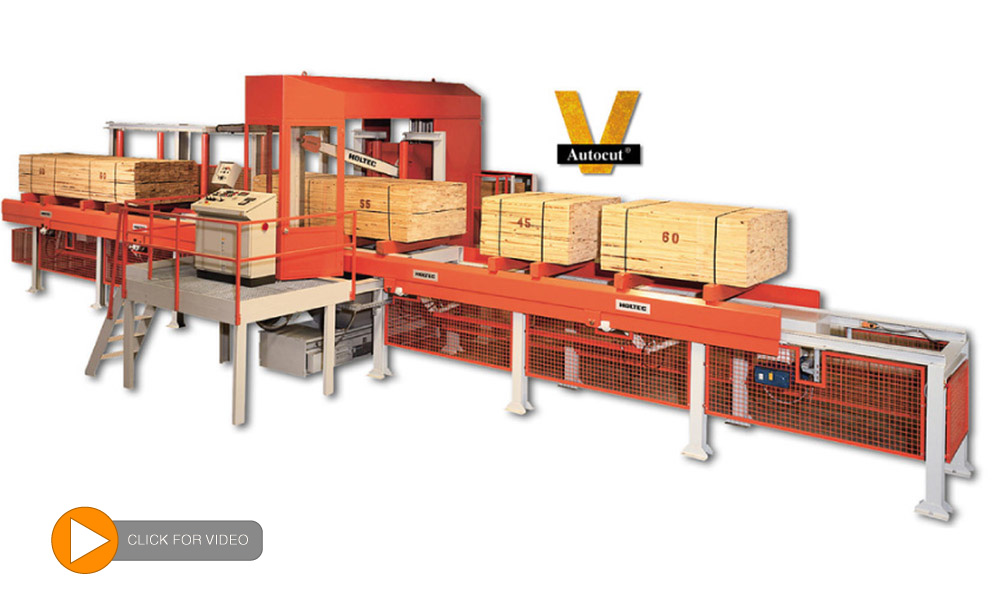 ---
ROLLERWAY SYSTEMS
HOLTEC rollerway systems can be supplied as the ES 121 tilting saw or as the Vario Cut system. With this system your packages are cut efficiently with total precision. Rollerway systems are perfect for being used in production lines with feeding and take-off systems, in fully automatic. As with all HOLTEC systems they meet the Euro-Standard (CE) as well as the newest machine and EMU-directives.
Precision without respite:
Can be integrated into every production line
Fully automatic production process without interruption
Robust construction
Low costs per piece
One-man-handling