STATIONS
THE NEW HOLTEC TRANSCUT II® STATION
Now you don't have to compromise quality for price. Our Transcut II® Station will cleanly cut through a package of hardwood or softwood lumber in about a minute, and with an accuracy of ±1/16″.*
Using conventional .404″ chain, our system is affordable for any manufacturer whose needs demand more than a portable saw, but less than the capabilities of our automated systems.
We've priced it low, but equipped it with all the features you need to start processing your lumber quickly. Which makes it the perfect solution for your cutting needs.
A 20' Fixed Frame Assembly
3/8″ (.404″) Stellite® Armoured Guide Bar
Automatic Chain Tensioner
Rack and Pinion Movement
Automatic Sawmotor Shutoff
Steel Alignment Stands
Electric Oil Lubrication Pump
HOLTEC Parallel Guide Frame
Safety Shielding
Elevated and Galvanized Operator's Platform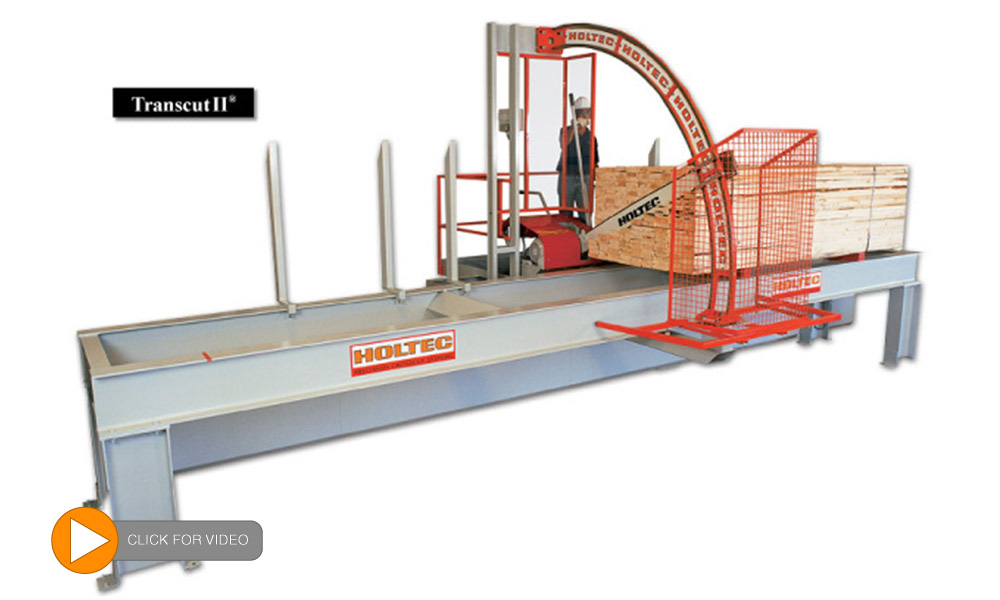 It's also available with our Electronic Length Measuring Device. So the new HOLTEC Transcut II® Station delivers HOLTEC performance, HOLTEC quality and HOLTEC profitability, at a very competitive price. At this price, can you afford to not invest in a HOLTEC?
Don't waste another minute or another dollar! The TRANSCUT® II STATION is fast, affordable and available for immediate delivery.*
Click on the picture to View video of the Transcut II Station in action.